Kanakuk Haiti - (originally known as Christian Children's Charity) was established to provide the chidren of Haiti with a solid education, a growing personal knowledge of Jesus Christ, and a daily nutritional meal. Under the direction of Pastor Edmond and Project Manager Moise Vaval, there are 18 schools.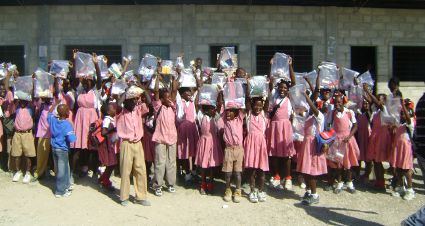 Sign Up!
2013-09-12 10:00:33

It's that time of year when we are gearing up and collecting items for Haiti! Our goal is to provide Christmas bags for 6,000 children; we still need 3,000 bags! We NEED your help! Help us make the difference in a child's life - commit today!
Read More
Haiti Trip Photos
2012-03-21 15:17:17
I can't believe it has already been 2 months since our trip to Haiti. A group of 20 of us left from all over parts of the United States, met up in Miami and flew to Port au Prince for 4 days. We had the INCREDIBLE opportunity to help and serve our friends of Haiti.
I just wanted to share with you some of the most beautiful pictures the photographer took while we were there!
Part 1: Multi-day slideshow: (slideshow) (72 photos)
Part 2: Day 1 slideshow: picasaweb (12 photos)
Part 3: Day 2 slideshow: picasaweb (15 photos)
Also…..check out K-2 rapper, Nasa's Haiti rap video - http://vimeo.com/37552222.
Looking forward to another year of bag packing and watching God bless so many people!
Read More
Merry Christmas….Bag Packing Style
2011-09-21 10:59:45
Zip, snap, shove, tape, shove more, tape tight. DONE. That's the sound of Operation Haiti Christmas Bag Packing! Kampers right this minute are working hard to raise funds and gather goodies to pack into Christmas bags that serve as gifts for children in Haiti. Want to know how to join in on the fun? Click the Get Involved green tab at the top and sign up by October 8th to pack bags for the children of Haiti! This could be the ONLY gift they receive, so every bag counts!
If you are already packing bags, email in pictures of your progress at Haiti@kanakuk.com so we can post them up on the blog!
Happy packing!!
Read More
blog archive |